What's Happening
MAX BLACK: I am enjoying my time here at the ranch, getting daily grooming and regular feedings! I am currently on senior feed some Calf Manna for extra calories, Outlast for my tummy, probiotics and joint supplements, along with some white and mineral salt. I have my own stall and lots of room to roam, plus grass to eat. As you can see by the photo, I have gained well over 100 pounds! I am a sweet man and looking forward to having my own home and some light riding after I gain a few hundred more pounds. Thanks for letting me stay here with these nice folks until you find me a new family with a horse friend. Love, Max.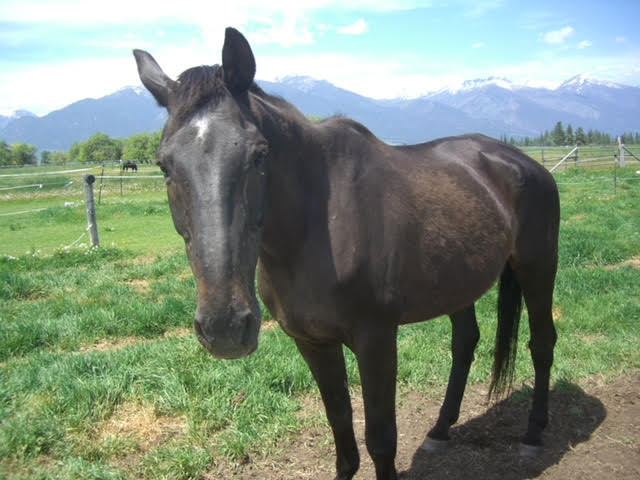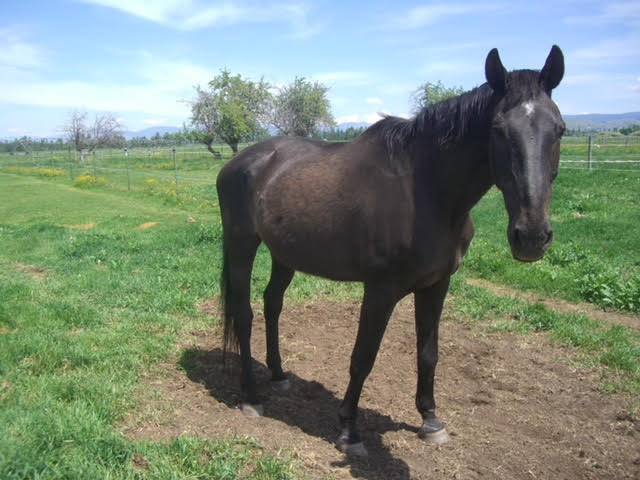 BELLE: ADOPTED 22 years young, this beauty is a lot of fun under saddle! 15 hh QH mare, easy keeper, no issues. Sweet disposition, easy to be around, good with other horses. Ground ties, mild arthritis, stands quietly for grooming, saddling, mounting block and mounting. She walks out nicely! She has a good trot and has energy! Ridden with longer shank snaffle, neck reins. Intermediate/experienced rider. $350.00 Adoption Fee to approved home. Current on everything.
Belle and Raven would love to go together as they are now best friends!
ADOPTED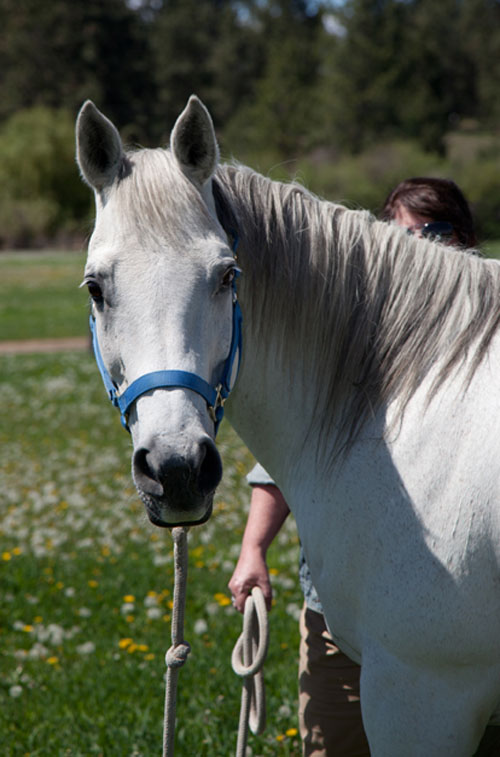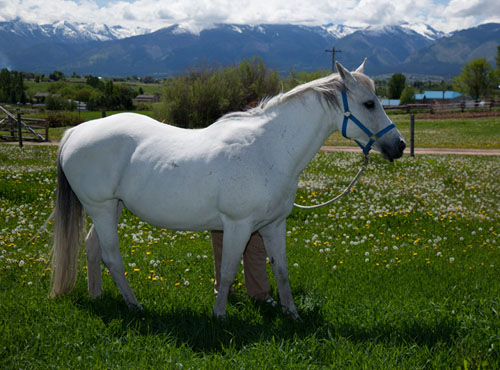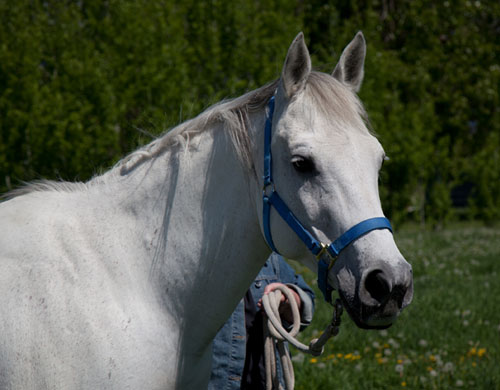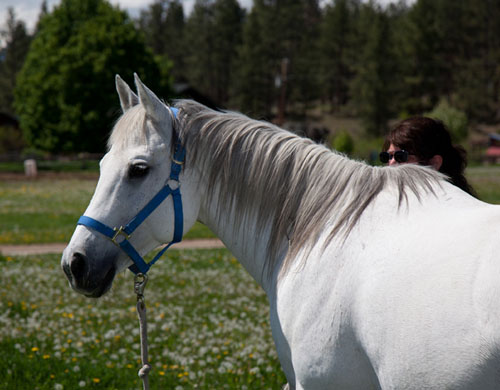 RAVEN: This is our version of Black Beauty! Look at that face! After having one owner for over 14 years, this 2000 1/2 Kiger Mustang/ 1/2 QH, 14.3 hh mare was passed around to three different homes in just 18 months, through no fault of her own. She stands quietly when tied for grooming and saddling, but can get impatient if left alone. She has gotten away with being pushy in the past, especially for the farrier. Raven enjoys light trail rides rather than arena work. She has a serious hind leg injury 10 years ago, so no extremely up or down terrain, mild arthritis. Good with mounting block, tolerates children's antics, easy keeper, good with other horses. She needs an intermediate to experienced rider, goes best with another horse, likes to follow, rather than lead. $375.00 Adoption Fee to approved home.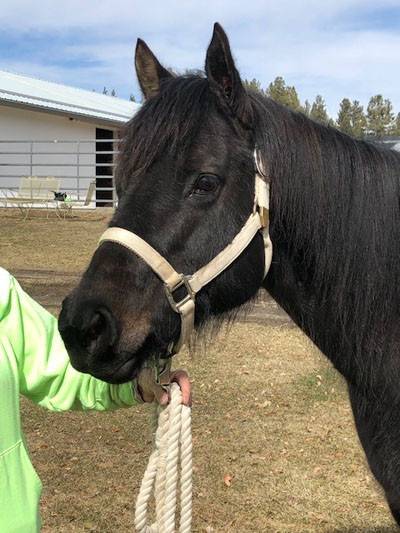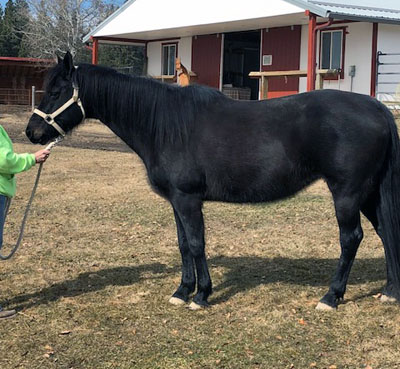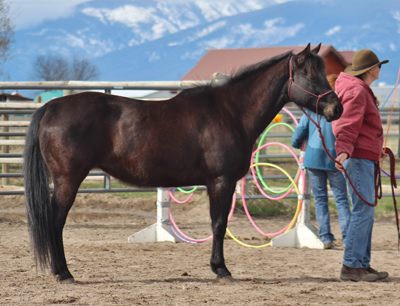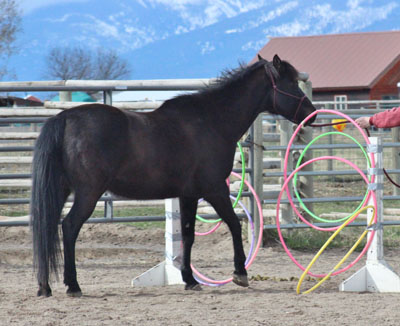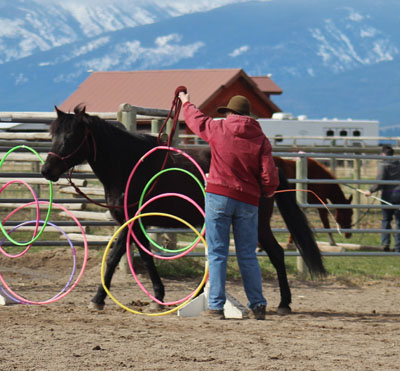 PETUNIA: 2005 QH mare, Petunia is a looker! She needs a patient, confident leader as she has serious confidence issues, can be on high alert and over react. She loves grooming and attention, is sound, gets along well with others, loads and trailers well, backs out. She's had issues with her withers/back, has had regular chiropractic and cranial sacral appointments. She prefers being ridden in a light weight saddle or bareback pad. She's had lots of round pen/arena work, and has been ridden on local trails three times without issue. Has really good feet. Please understand this mare is NOT for a beginner or novice person, only true horseman should apply to adopt her. Fee is $750.00.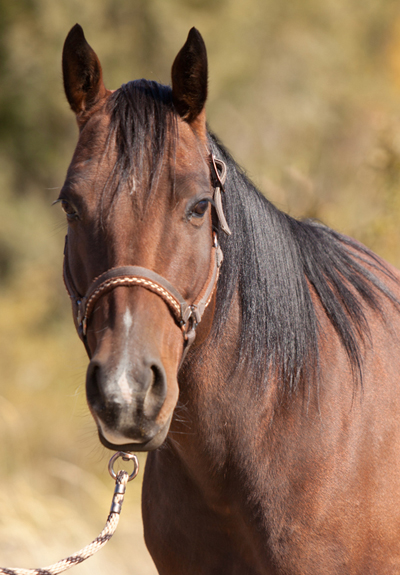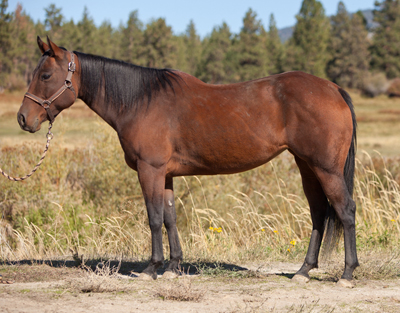 JOHNNY: This beautiful 11 year old QH gelding was saved from the Sunnyside feedlot in WA last June by a woman in Alaska. Her intention after quarantine was to get him to Alaska, but her husband's cancer prohibited that, so he is being boarded at a facility in MT. She would like us to find him a home. Per my questions/request, he is scheduled for a dental check and float if needed, health and Coggins, de-worming, vaccinations, and farrier work on Friday 3/30/218. He is 15.1 hh, friendly, great to handle on the ground, loads and trailers well, good with his feet, loves the company of other horses, and is good in the herd. From the brief assessment by the folks where he is currently living, he doesn't appear to have much, if any, training under saddle. Adoption Fee is $500 to approved home.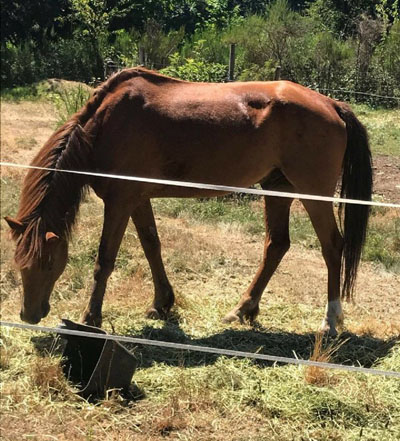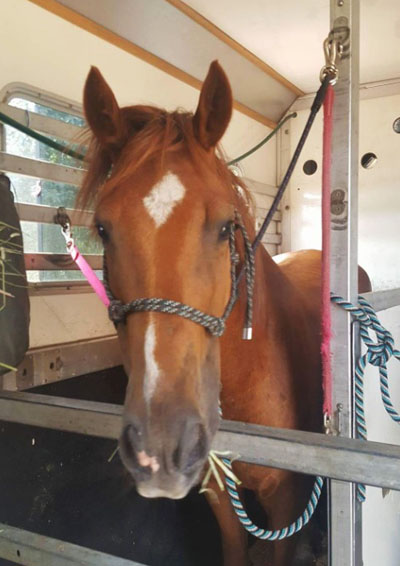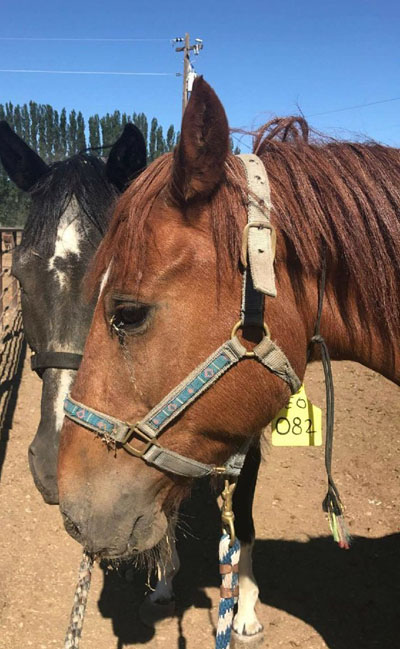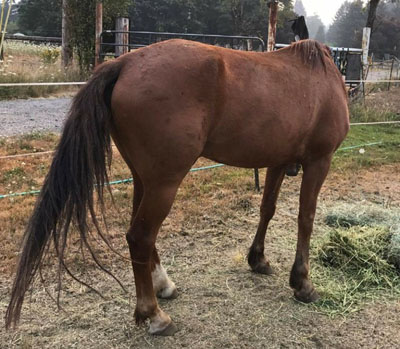 BROCK: Not all mules are mulish. Brock makes our case against the stereotype of the stubborn mule. He loves affection and attention, is kind and gentle, and perfectly mannered for the farrier. Brock is just looking for a place to hang out with friends to share his wisdom and good sense. This 21 year old fella was much thinner when rescued because his neglected teeth made it hard for him to gain weight. Now he's slowly putting on some pounds with a soft grass/alfalfa mix and some lightly soaked supplements. Complete an adoption application at wmerr.org. His adoption fee is $275.
Special consideration will be given to anyone who can keep Brock and Chance together.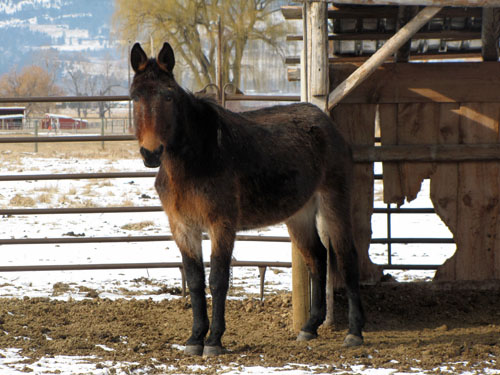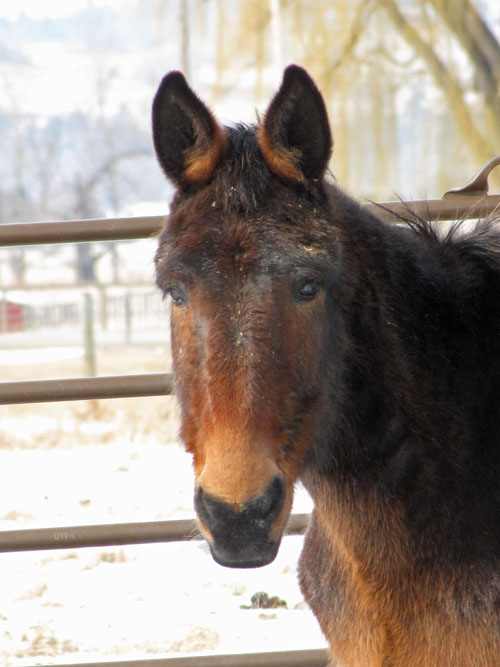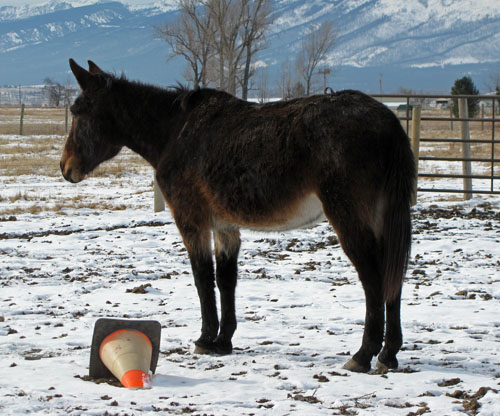 CHANCE: Chance
was definitely in need of help, as you can see from his photo's at intake. 6 weeks later shows huge improvement in not only his weight, but also his attitude and alertness! The diet for this TB guy consists of grass/alfalfa hay, Red Cell, MSM and 6 lbs supplemental pellets daily. We are seeking a monthly sponsor until he is ready for adoption. Please visit our Paypal button to make a donation to sponsor Chance.
Special consideration will be given to anyone who can keep Brock and Chance together.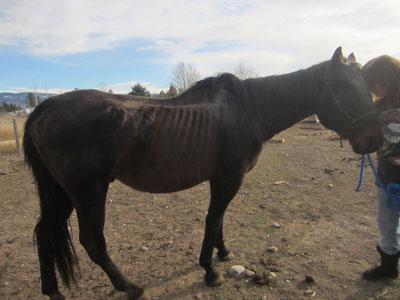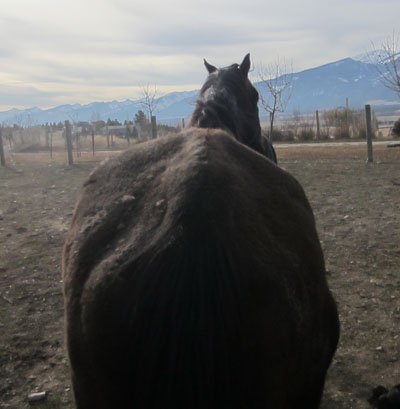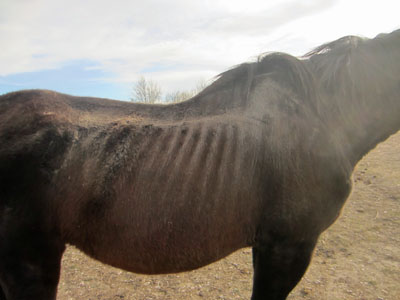 Chance before (above) - Chance after (below)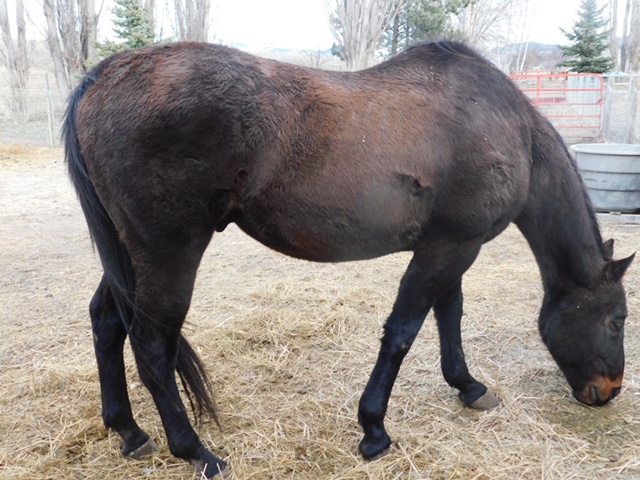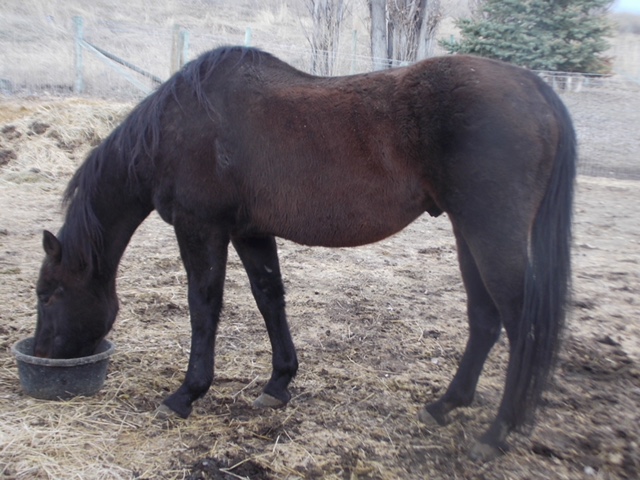 SISSY:
ADOPTED
Are you a true horseman looking for the "perfect match" in an equine partner? Look no further! Sissy is a 2008 registered QH red dun mare, 15.1 hh. We just cannot say enough good things about her (If she were a gelding for sale on the open market, he'd be priced at $3500-$4000). Due to her owners health issues, she loved Sissy enough to let someone else have the pleasure of owning her. Sissy came with NO BAGGAGE, responsibly and well cared for with good foundation training under saddle. She likes people, wants to be with you and pays attention to you. She does not over react to anything. Stands quietly for mounting at a mounting block, doesn't move until asked. Sissy is very intelligent, wicked smart, enjoys doing a variety of things (clinics, following cattle, trail rides and so on). She has minimal experience with trail riding, great to ride off alone, not herd bound. She has good feet and is perfect for the farrier. Videos under saddle available on request. Teeth floated, UTD on worming/vaccinations. Adoption Fee $2,000.00.
ADOPTED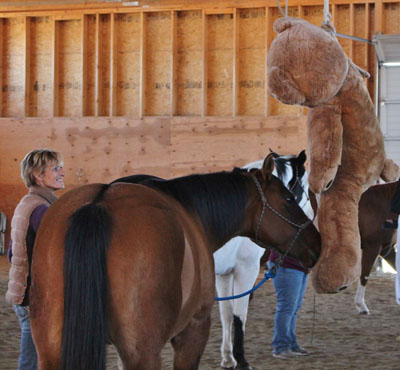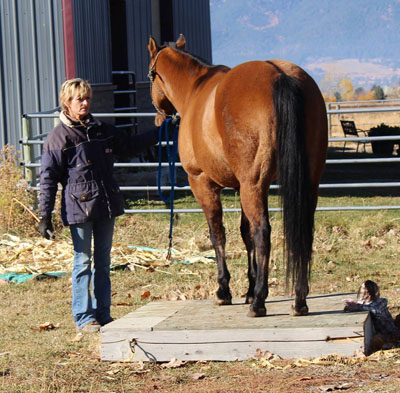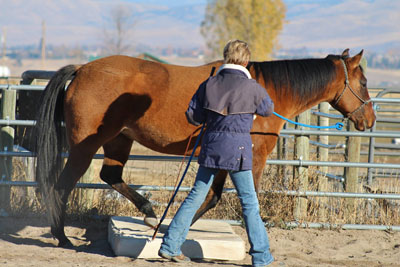 ISO TRAILER:
Have you retired from riding and no longer in need of your trailer? We are urgently in need of a stock type trailer, bumper pull or gooseneck. Tax deductible receipt, value not over $5,000.00 but must be in good, SAFE, usable condition. Please email us at
wmerescue@gmail.com
. Thank You in advance!
FOSTER HOMES NEEDED: If you would like to help us help a horse, on a temporary basis, we are seeking 10 foster homes in our LOCAL area, or within 250 miles of the Bitterroot Valley of western Montana. You might be needed for one or more horses, for two days or up to a maximum of three months. All needs are provided unless you are in a position to provide something. Safe fencing (no barbed wire), shelter, dry lot and/or pasture (depending on the needs of the horse and time of year), time and attention are a must. Foster information can be found on our website under the ADOPT/FOSTER page. Thank you!
---
Education and Programs
Making Winter Manageable on the Farm
Article by Alayne Bickle and featured on "The Horse".
These preparations can help carry you and your horses through the cold, dark and wet months ahead.
---
WMERR Mission
To rescue, rehabilitate and retrain equines facing neglect or abuse and provide them with the best opportunity for a permanent home. Offer support to the equine community through education and our outreach programs.