Join Our Herd - Become a WMERR Sponsor
---
Please consider sponsoring one of the equines posted below!
Our permanent residents that will live out the rest of their lives with WMERR and equines waiting for their forever home would love to have someone sponsor them. We offer a sponsorship program that allows you to make a world of difference to an equine or as many as you would like to sponsor.
Pick the equine of your choice and help support that equine via a monthly donation that fits your budget to help pay for their feed, supplements or medical needs. You will receive a Certificate of Appreciation with the equine's photo and regular updates. You can also gift this to that special someone. It's like "owning" an equine without "owning an equine".
We are strictly volunteer run. Your donations go toward the care of the equines through feed, special supplements, medications, veterinary expenses, hoof care, transport, as well as training. All of those things are needed for successful rescue and rehabilitation of the equines under our care. Join our herd and sponsor an equine today!
You can sponsor any equine on this website.
Simply click on the "Subscribe' button, choose the amount you would like to sponsor and PayPal will take care of the rest!
The equines thank you!
---
Eve
Eve is 23 and almost completely blind. Rescued by one person, then another, then another, the last one realized she did not have the right place for a blind horse and reached out to us. We are appreciative and grateful to say that Eve is blessed to have an extremely gracious donor, fully funding her for life, and another, who is used to caring for a blind horse, opened her home and her heart to make Eve part of her family.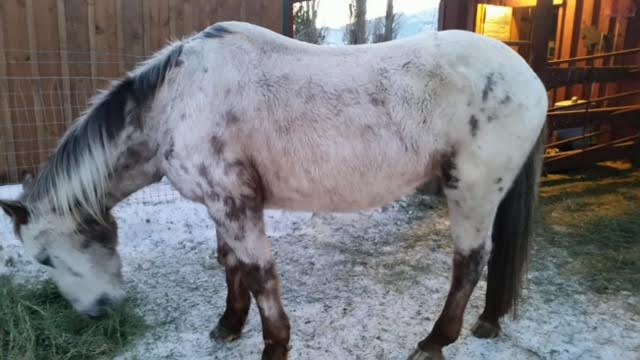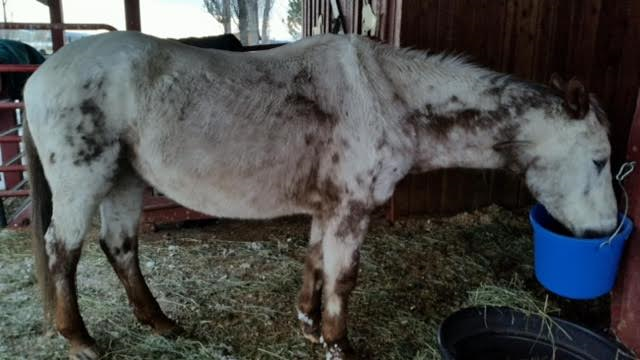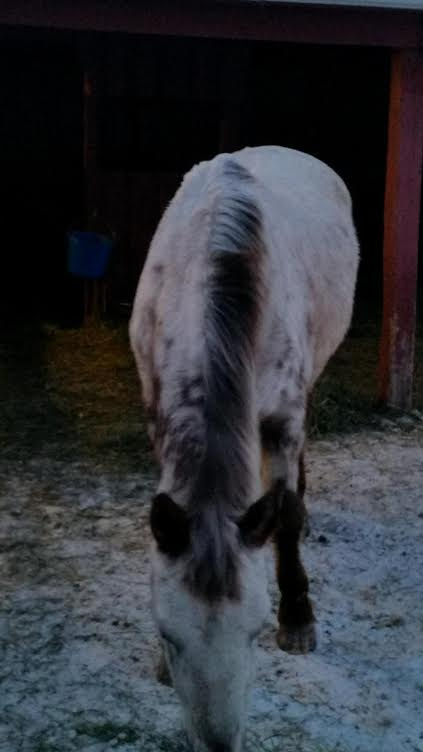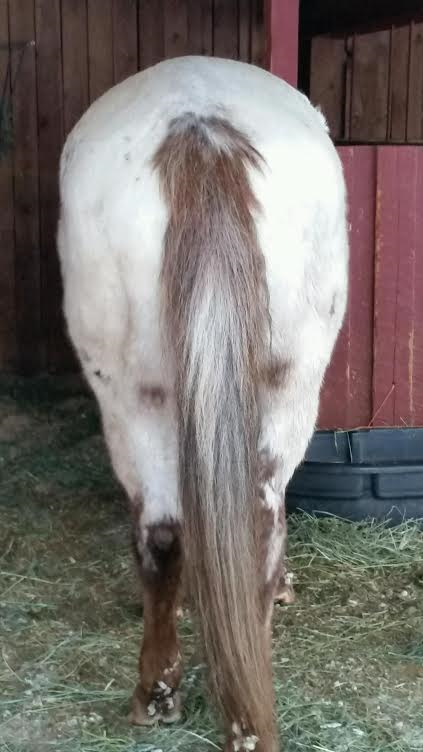 ---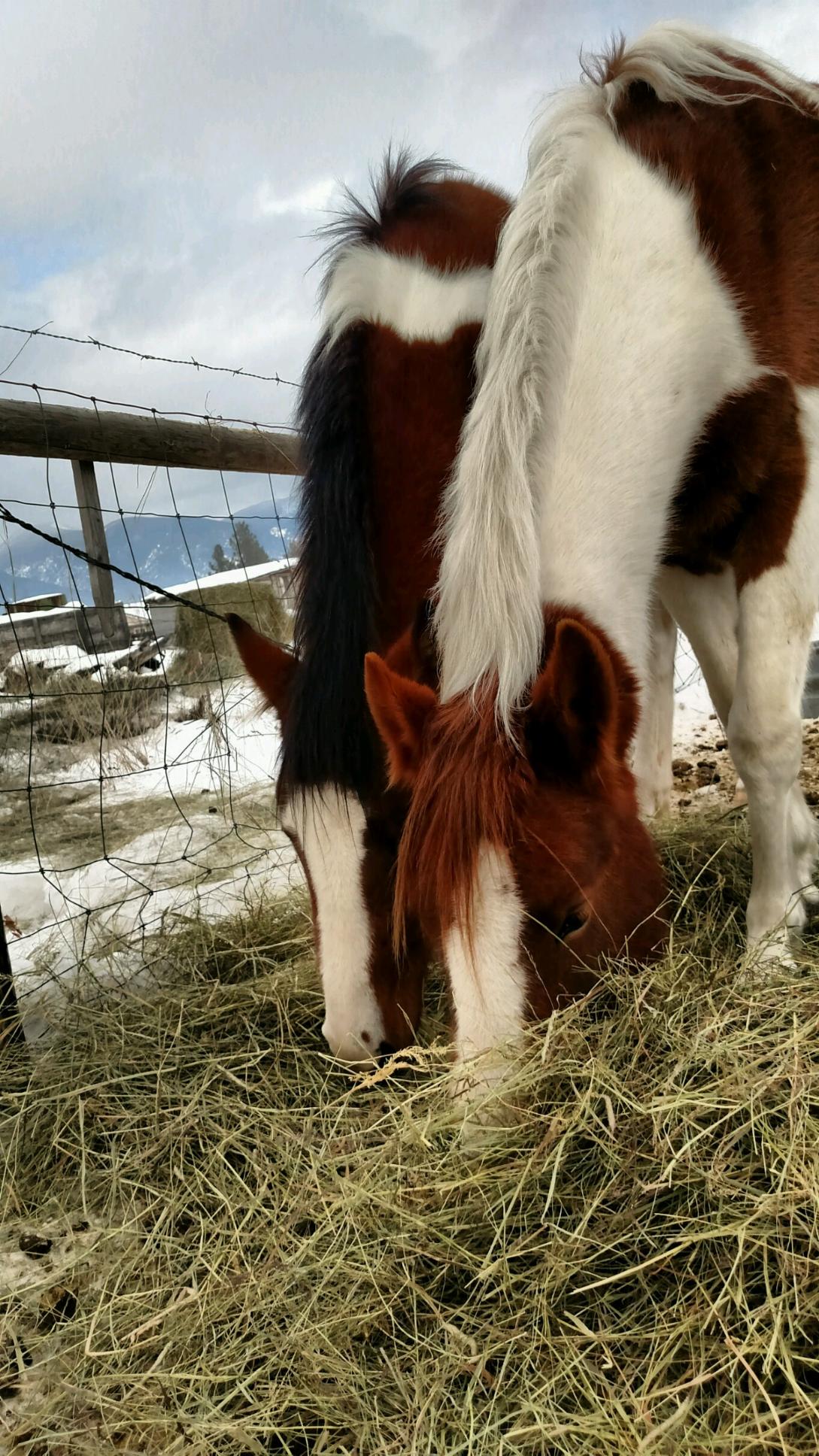 Grace and Destiny
After saving these two lovely girls as weanlings from a Texas sale yard (mothers sold to kill buyer) and caring for them for over 3 years, their owner released them into our care. Destiny and Grace, together like twins, are two of our newest arrivals. Even though they had not been in a trailer since coming up from Texas, they loaded and went to their new accommodations with a local retired trainer, Vince Felty, almost like pros. Vince has generously offered to "work" with them. He says they are so smart and he thinks they would make a cute driving pair. His wife thinks they will make great little kids horses when they are done, as they don't seem to mind anything! They are 4 years old and 14 hands tall.
Please consider helping with their veterinary and farrier needs by clicking on the PayPal button or mailing your tax deductible donation to WMERR, P.O. Box 1168, Corvallis, MT 59828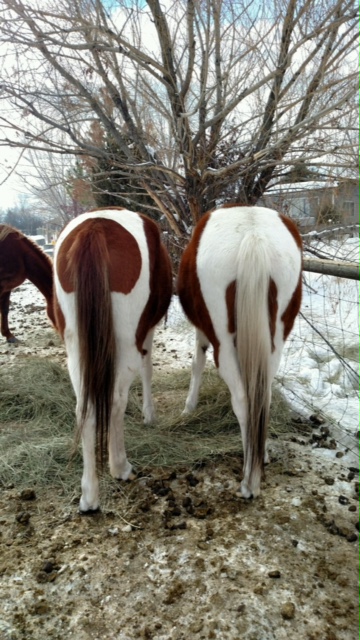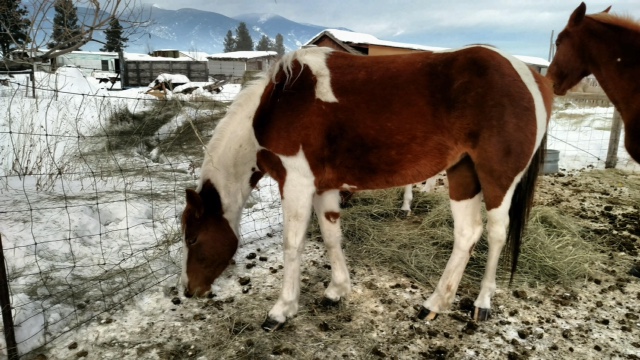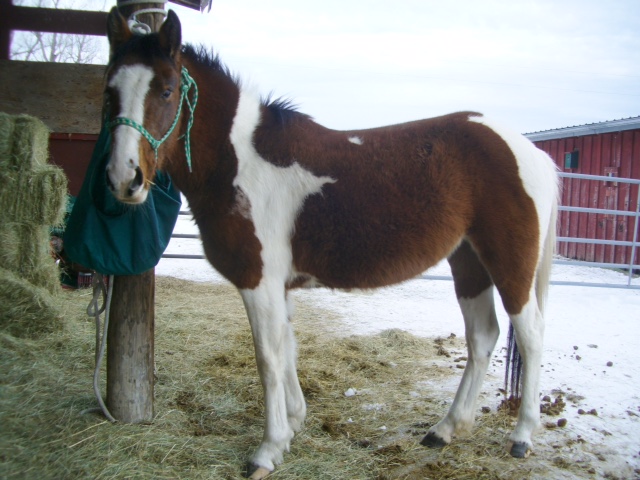 ---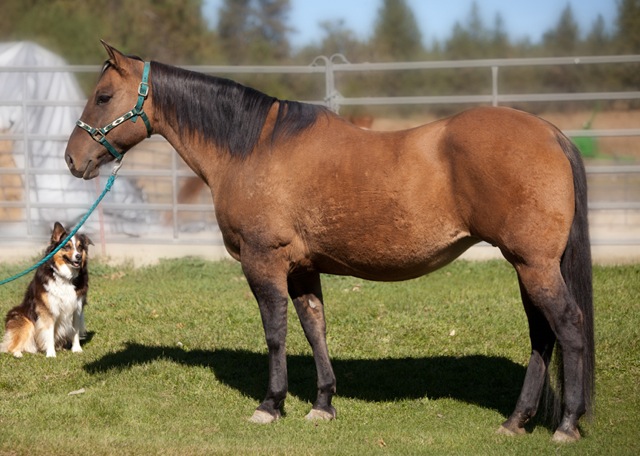 Sable
Sable is a 1999 AQHA 15.1 hh mare with an amazing calm, quiet, easy to get along with personality. At this time, she is not available to adopt due to her arrival as a foundered horses and needing extensive hoof care. She would love to meet you though if you choose to help sponsor her needs. Thank you!
$272/year: Platinum Performance Hoof Support
$180/year: Veterinary Medication
Sponsoring Sable and making a monthly donation toward her care is as simple as clicking the PayPal button below.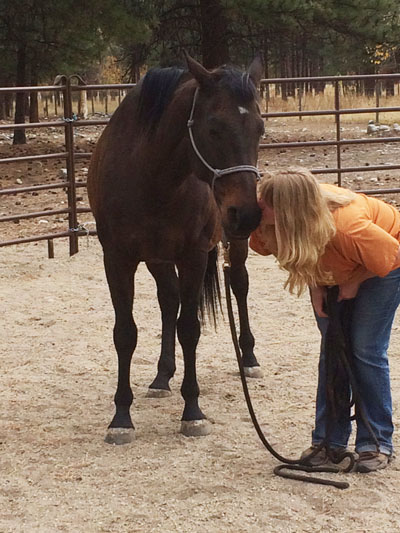 Faith
A very sweet, kind 14 yr old TB/QH mare, who will be the first one to greet you in the morning with a soft nicker, and the first to meet you at the gate! Faith is currently with an awesome caregiver, who is instilling confidence and fun when "working" with her, Liberty Training.
Farrier every 8 weeks: $20.00
Grain Supplement: $18.00 a month
Sponsoring Faith and making a monthly donation toward her care is as simple as clicking the PayPal button below.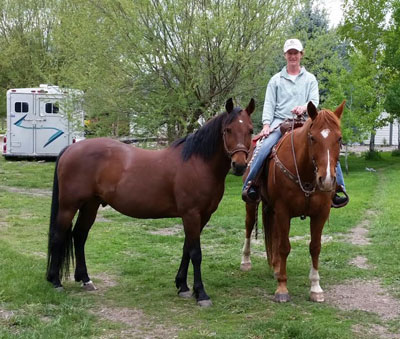 Leroy
After being removed from his small pen that he had been in for 10 years, and removing the halter he had worn for just as long...Leroy did not "forget" his manners or willingness to get along with us humans and be a great partner. He is living the dream in his Montana home, being fostered by a warm engaging family that spends lots of time with him. The cost to care for Leroy is $150.00 per year.
Sponsoring Leroy and making a monthly donation toward his care is as simple as clicking the PayPal button below.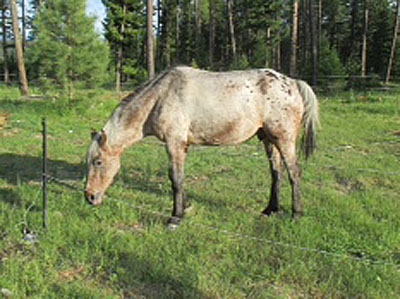 Rooster
What a guy! Rooster is an older Appaloosa gelding, one of our permanent Sanctuary horses since last fall. Due to his lack of teeth, Rooster's diet consists of supplements, Equine Senior and Alfalfa Pellets. He needed quite a bit of hoof and dental care upon his arrival. Any assistance in Sponsoring Rooster is greatly appreciated! The cost to care for Rooster is $70.00 per month.
Sponsoring Rooster and making a monthly donation toward his care is as simple as clicking the PayPal button below.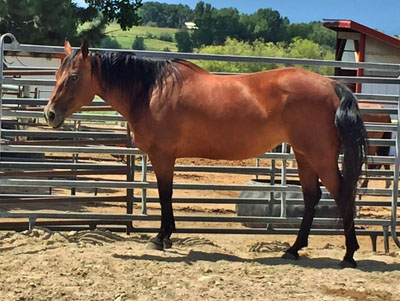 Petunia
Petunia was abused at a very young age, and because of that, has ongoing physical issues we seeking to address through various forms of rehabilitation. Only 10 years old, she is a very easy keeper and very nice to handle. She is not available for adoption at this time. Sponsorship of Petunia would be:
Monthly alternative healing session, $45.00
Chiropractor visits every 5 weeks, $50.00
Hoof trim every 8 weeks, $20.00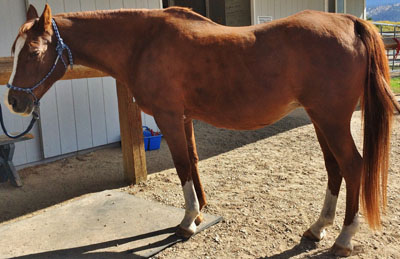 Binnie
This cute little Arabian, who raised babies all of her life, came to us last October rather than being taken to the sale yard by her owners. She's super sweet, about 24 years old and enjoying retirement with her dear friend Petunia. If you would like to sponsor Binnie, $47.90/month for her Smartpak Senior Supplements. Thank you!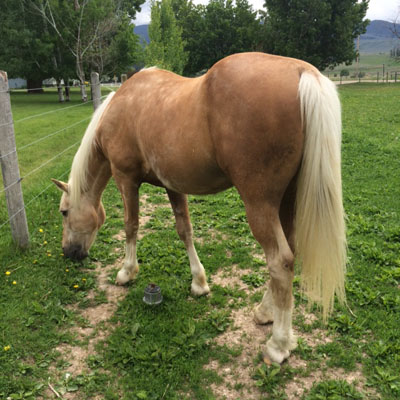 Indy
Though in a large lush pasture, Indy was starving to death due to a lack of teeth. His owners allowed us to take possession and per his veterinary assessment, put him on a diet of soaked alfalfa pellets and Senior feed. He was diagnosed with Cushings disease, so receives daily medication. Darling Missouri Foxtrotter gelding, shy personality but trusting. Interested in sponsoring him?
Pergolide medication $56.00 every two months
Hoof trimming every eight weeks, $20.00
He has had a generous sponsor of his daily feed since arriving!
Gracie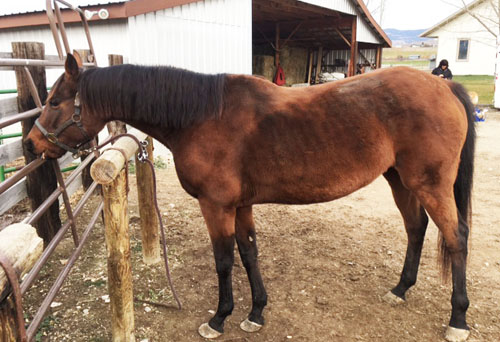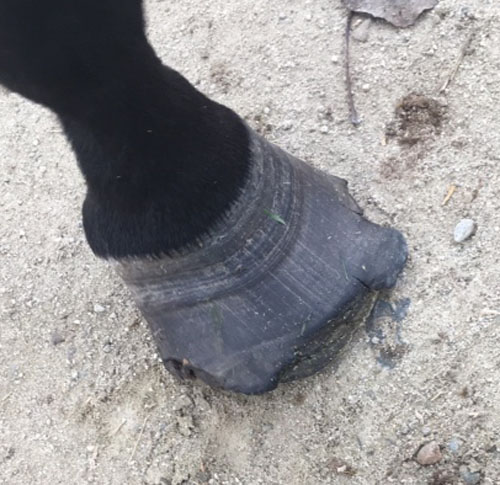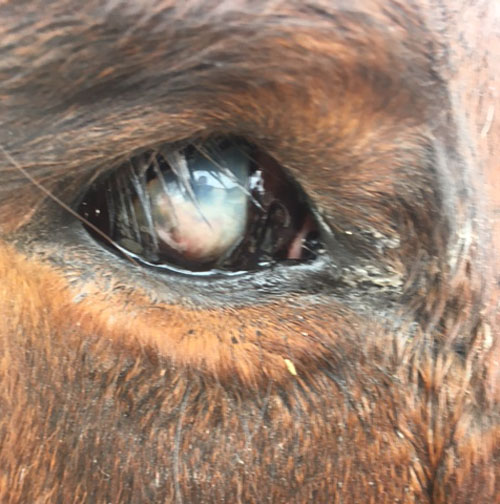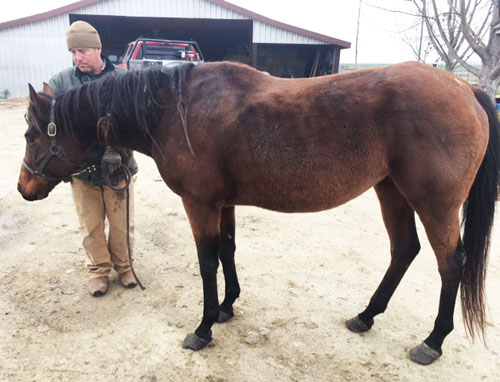 After being completely neglected for at least 3 years, 18 year old TB mare Gracie was up for free on FB. Thankful to a generous foster home, we were able to take possession in fact, she couldn't wait to get in the trailer! According to our veterinary assessment, she needs to gain at least 125 lbs before her teeth can be floated or vaccinations given. She's been wormed and feet trimmed. She has a very good disposition.

(Last picture is 1 week later)

If you would like to help Gracie on her road to recovery with dental, vaccinations and supplemental feed, please click on the Paypal button below!